Salam & greeting bloggers..
For all seafood lovers.. Drool..
We had this
Manhattan Fish Market at Alamanda, Putrajaya.
Quite a comfy place to enjoy your meal.
Studying the menu. Pardon me. 1st timer here.
The one above, emm.. I really forgot.. Was it fried mushroom?
Strictly for sharing..
That's what the menu says.
Manhattan Seafood Platter for Two .. Deep fried fish fillet, calamari, oysters & flaming prawns served with chips and garlic rice. RM46.90
.. Very filling!! Sangat kenyang.. Sharing for 3 or 4 if you don't eat much.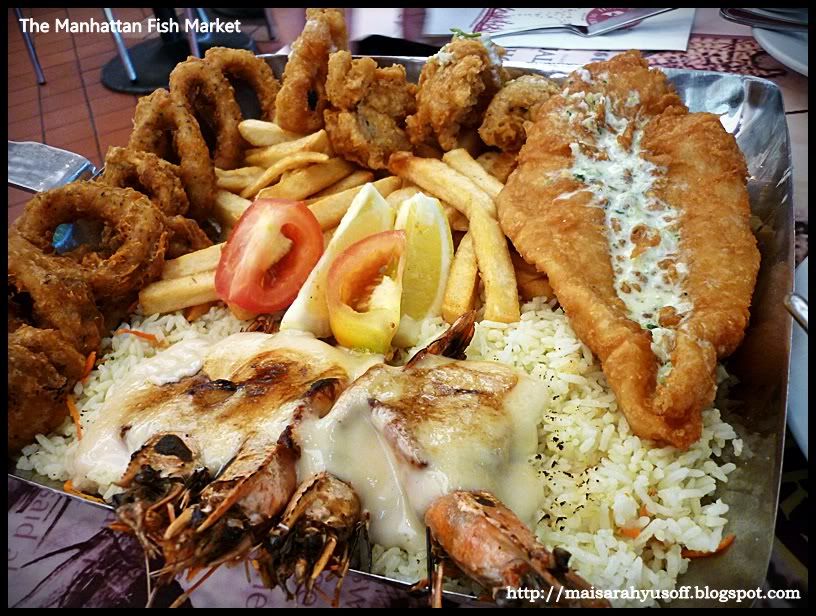 Udang tue nnt dia bakar time dia serve. Takder la yg bakar bagai.. Just like a bit flaming. I'm not sure whether it is for the show or what. Nampak cheese yang ala-ala terbakar tue. Yang tue lah. Sgt jakun. Bukan kamu. Saya.
Overall,
the food was nice and the service was great
.. Entry agak tidak bersemangat sebab I'm not a huge fan of seafood-western-style.. Lainlah kalau sotong masak sambal.. Yang tue harus layan dengan bersungguh-sungguh.
Cheers!!!